My favorite thing recently (besides a hundred of my other favorite things) has been thrifting and garage sale hopping. I really should do a post just on the swag I've picked up on the cheap, or free, someday. Several Saturday mornings ago, my partner and I happened to stop by a moving sale that turned out to be pretty fruitful. Actually it was a pretty awkward exchange to begin with, as I always feel garage sales are. Essentially you're picking through someone's life and offering them a quarter for a piece of it, something I'm still getting comfortable doing. The couple we shopped from was young and friendly, and unloading their belongings before a cross-country move. We wound up purchasing a floor lamp, new USA-made mason jars and a wooden print painting of the Buddha.
After our purchases we got to chatting, and lo and behold, the girl of the couple ran the local raw-food meet-up group. My partner told them I was vegan, and the girl offered me some kombucha she had brewed. Which I had never had, commercial, home-brewed or otherwise... but I said yes anyway to be polite.
And walked out with a scoby!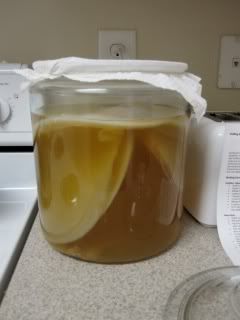 Lots of scobys hanging out in this one!
It was recommended that I brew it for an additional two weeks, which I did (not taking into account that her apartment was much colder than mine). I wound up with 2 gallons of vinegar and more scobys than I could keep up with. I threw out all but one, which I brewed using the directions she gave me when I said, "So what do I do with this again?" I started a new batch, waited two weeks, and yesterday I bottled it up ...
We like wine in this house, mmkay?
And I'm keeping my fingers crossed that the corks don't fly off as the kombucha sits for 3-5 days its post-bottling fermentation cycle. I flavored each one of these bottles a little differently, but being the genius I am,
forgot to label them
! So it will be a surprise.
I've already started brewing a smaller batch, testing out my organic assam tea. My most recent bottled kombucha is still a bit vinegary, just past the point of being sweet but not entirely unpleasant, so this is going to be a smaller batch with a shorter brew time.
One day later and I already have a daughter scoby
forming on top!
The jar sitting on my counter is just another reminder of the steps I'm taking in my transition from the Standard American Diet to a living foods-centered lifestyle.

Even though I've cut out most of the SAD components of what I eat, there are things that I just can't give up. Things that at this very moment are causing a fair bit of mumbling and grumbling in my stomach.