Why do people have so much trouble fitting veggies into their diet?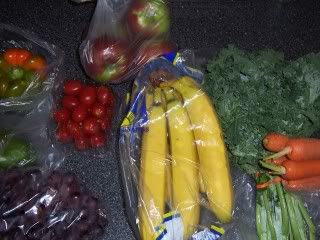 Vegetable market swag today: kale, peppers, grapes, bananas, cherry tomatoes, carrots, apples.
Seemed like a lot to pick up for $12 ("This will last me all week!"), except the entire head of kale turned into this...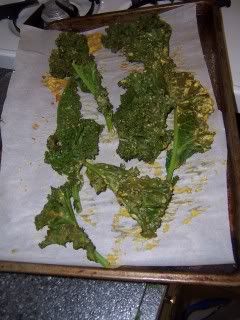 Noochy kale chips!
...and I just couldn't contain myself. They were amazing. I don't have a dehydrator, so I baked these in the oven. I found a recipe for these on
Averie
's blog, and modified it based on the ingredients I had on hand/wanted to clean up after. I mixed together in a food processor:
1/3 cup nutritional yeast
1/3 cup peanut butter
1/2 green pepper
1 tbsp lemon juice
1/4 cup water
Threw it together in a bowl to fully coat a bunch of kale (stems removed, leaves cut in half). Spread it on two baking sheets at 300 degrees for 30 minutes, flipping a few times in between. I wish I had more pictures, but it's all gone!
This Saturday I meant to go backpacking, but with rain in the forecast in the Catskills, we decided to take our new car on a long test drive. So we drove from Queens to Montauk. We literally drove there, ate lunch at a fish and chips place, and left. (I had sweet potato fries; it was my partner's birthday that weekend and I went for him, but thoroughly ruined it when I started
sobbing
at a boiled lobster being brought to another guest.) It was a good test drive for our new car, before Aaron left New York to Florida yesterday morning, and I've never seen "The End" of Long Island.
I woke up at 3 a.m. (or at least that's what my alarm was set for) to make coffee and breakfast (failed) for us to get him ready to go. It was a nice good-bye, and though I'd promised myself I wouldn't cry, I did get a bit teary. On June 12 I'll meet him in Virginia to see his sister's graduation, and we'll drive back up to New York together, but in the last four years we've been apart one other time for more than a week.
I like time alone, but I cherish time together!
Or at least I need to learn how to!

After he left (and after getting a great pep talk from
Ju
) I looked out the window at the beautiful rising sun.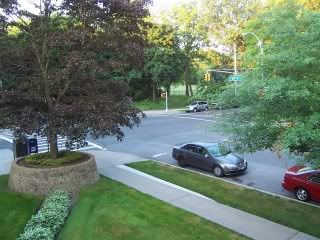 Not the best view from my balcony (no privacy either), living on a busy intersection, but all the elements were aligned. The temperature and humidity were perfect, the air smelled crisp, it was a holiday morning (Memorial Day) so it was extra quiet. A great morning for a 6.5 mile run!
Well, maybe not, because today I'm extra sore despite a nice 20 minute yoga stretch afterward.
Running is my meditation. When I need to plot, gain perspective, or just clear my head, nothing does it better than a middle to longer distance run. No music, no accessories, just pure meditative running. I'm a slow runner for longer distance (I have no dreams of qualifying for the Boston Marathon), I run with my breathing; that means that if I want to run a 10-minute mile, then I'll run a 10 minute mile, but if my lungs will put up with a 7:30, then that's what I'll run. I don't time, I don't race other people on the trail. It really is meditation, I'm focused inward.
Which can get rather boring. So partner runs are fun!
And on the
writing front
, I've procrastinated all day, but I will not stop until my MS reaches
1500 words
. I currently have 300.